It's been three years since one of the best singers of the world died, Whitney "Nippy" Houston. After a turbulent and intense life, she left the world because they came an Angel too short in the heavenly choir ;o). Whitney was one of my favorite singers. From my childhood, I listened to her music. She touched my heart with her; songs, voice, acting talent and sparkling personality. Not only her personality was beautiful, but also her appearance. She definitely had the looks and always looked stunning. She was a natural beauty or should I say Earth Angel :o).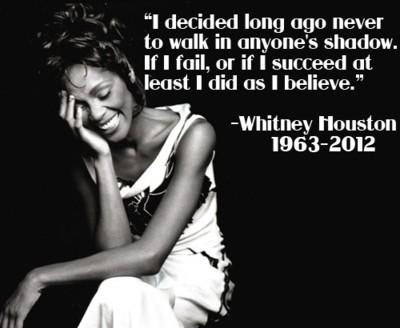 Thank you Nippy for sharing your: music, wisdom, acting talent, inner and outer beauty and unconditional love. It's not right, but it's okay. I hope that your soul have found peace. I will always love you!
Below you find my favorite Whitney Houston songs. I hope you enjoy it & listen with your heart !
XXX WHITNEY GREATEST FAN MISS SHARON XXX
I Wanna Dance With Somebody

The Greatest Love Of All

One Moment In Time

I Will Always Love You

I Am Every Woman

Queen Of The Night

Exhale (shoop shoop)

Step By Step

It's Not Right But's Okay

My Love Is Your Love

If I Told You That

I Learned From The Best

Heartbreak Hotel

Could I Have This Kiss Forever